Snoga is a fusion of snow and yoga - it's such a brilliant idea! A Snoga yoga retreat is a unique opportunity to immerse yourself in your yoga practice while surrounded by spectacular snow-capped mountains.
Janette Lawson, owner of Trackers Mountain Lodge, got inspiration to introduce the concept of Snoga yoga retreats to Victoria's Falls Creek Alpine Resort while completing her yoga teacher training in Byron Bay. According to Janette, 'If "I'm so stressed out" has become your daily mantra, a Snoga yoga retreat could be your perfect wellness getaway.'
Each year Janette gathers a group of renowned yoga instructors to her Falls Creek lodge. My instructors were the wonderful Kate Taylor and Donna Buchanan, from The Yoga Vine studio, Perth. Tara Fitzgibbon of TerrafirmaYoga, Byron Bay, and Josie Torrisi, a performer and aerial yoga artist from the Sunshine Coast joined the retreat for the second week.
What to expect
For two weeks each winter, Trackers Mountain Lodge transforms into a dedicated Snoga yoga retreat. The retreat kicks off with a specially constructed seven course health-inspired degustation dinner around the communal dining table. Then each day starts with a revitalising morning yoga session, and soothing Shavasana. The emphasis is yin yoga. The poses are held a little longer, and are designed to gently free up the connective tissue around the joints, particularly the knees, hips, and spine.
Soon after a healthy, and warming breakfast is served to get you ready for your day. The kitchari served at breakfast is worth a special mention. I'm now a fan of this nourishing Ayurvedic dish. At Falls Creek Alpine Resort you get to choose your own adventure. Spectacular skiing, snowboarding, and endless cross country skiing is on offer. If you need a little down time you can hang out by the cosy fireplace, or take the opportunity to complement your Snoga quest with a visit to one of the local day spas. Come five o'clock and it's time to roll out your yoga mat again. I became an enthusiastic devotee of yin inspired yoga, it's ideal to help stretch out tired ski muscles. The package includes nourishing breakfasts, afternoon raw treats, and nutritious dinners featuring a selection of seasonal and locally-sourced produce. Fresh fruit, coffee and herbal teas are also available during the day.
Trackers Mountain Lodge is located at Falls Creek, Victoria. Once there you can explore the picturesque alpine village by foot. Enquiries to www.trackers.com.au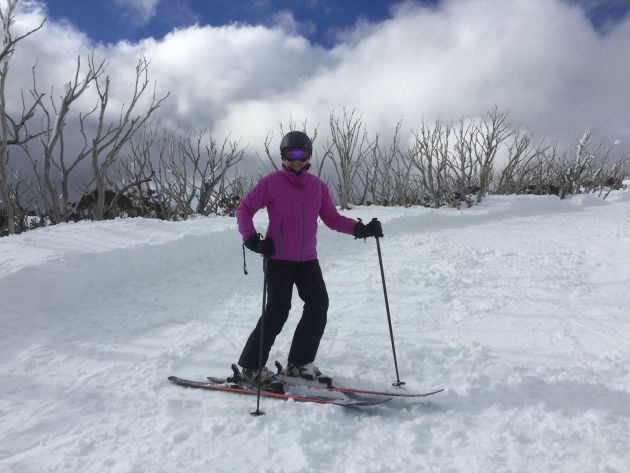 Louise O'Connor is a registered Australian naturopath who writes and educates on thyroid health on the ThyroSynergy® blog: http://thyrosynergy.com/blog/